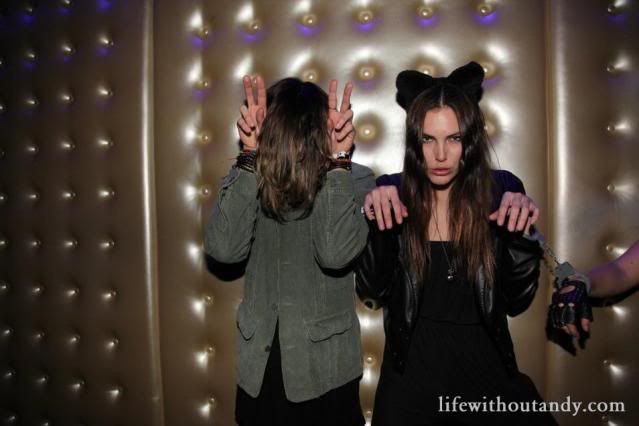 Jacket - Vintage from Glebe Markets
Tank - Stylestalker
Necklace - Made by moi
Jeans - Bardot
Tiger Ears - Mine circa 2007
Recently I have beeen getting emails from lovers of Lovemore
requesting me to post some more personal photos....
Social photos are not something I have usually injected into the blog...
..but if you guys enjoy them I might keep them rollllling :)
Thought I would share these snaps from a theme party I went to a few weeks ago.
These pics were taken by our friend Mitchell who is one half of the genius behind
the amazing photography website
Life Without Andy
......
check it outttttt.
In the last shot I am cuffed to my boy Jakey Gee - follow his blog,
Jake Lives Here
yo!
He is a typical male model and is all kinds of fun. Love.
PS - LOLA WE ARE MISSSSSING YOU!

Pretty excited for the weekend...
Can tell this is going to be another good one.

Happy Thursday!